Why André Heucq?
Our Brand: Champagne André Heucq
We used to be Heucq Père & Fils, but from now on we'll be André
Heucq, as a tribute to the founder, as well as to the current winemaker.
"André Heucq" affirms history and our winegrowing reality.
The brush-written "H" emphasizes manual work and
craftsmanship on our domain.
By evoking a "4", he is also alluding to the 4 elements that make up our universe.
surround :
Earth - Fire - Water - Air
"Nature" and "Terroir" frame a moon and assert what is most important to us.
that drives us every day: to be as close as possible to our terroir while
respecting nature. The moon marks our attention to
cycles for our work in the vineyard and the winery.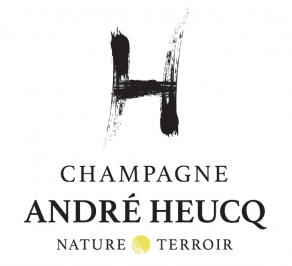 Héritage
These are our historic champagnes, inherited from our great-grandfather, and which have evolved over time and through the generations.
Parcel tribute
It's an ode to the land and our vineyards, giving us the opportunity to extract an exceptional cuvée from a single plot, a single grape variety and a single year.
Histoires


These are cuvées from our wine library. Aged exclusively in barrel, in very small volumes, they are the memory of our house.
The Coteaux Champenois
These are red wines made from old vines with low yields, harvested late to benefit from a high concentration of aromas.